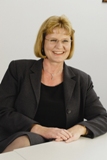 VALERIE LYONS (President)
Valerie Lyons is the Chief Executive Officer of Villa Maria, one of Victoria's oldest and largest community organisations committed to providing innovative, high quality service options in the disability, education and senior services sectors.  Serving more than 5,000 people across the state, Villa Maria offers over 60 programs through 40 metropolitan and regional locations, including residential aged care and community care options.
With more than a decade of leadership in the aged and community services field and 25 years experience in the health and finance industries, Valerie has proven to be a strong and committed advocate for effective policy and sector change. Valerie holds qualifications in finance and post graduate management, is studying for her MBA and is a member of the Australian Institute of Corporate Directors (MAICD), a Fellow of both the  Australian Society of Certified Practising Accountants (FCPA) and the Institute of Corporate Managers Secretaries and Administrators (FCIS).  Valerie is current President of Aged and Community Care Victoria, a Board Director of Aged & Community Services Australia and a Board Director of HESTA Superannuation.
---

MAL HUMPHRIES (Vice President)
Mal Humphries is the Chief Executive Officer of Arcare Pty Ltd. Arcare is a private sector aged care provider which has grown over the past seven years to 13 facilities nationally. Mal has been a Director of Aged & Community Care Victoria (nee VAHEC) for four years and is active in the Church of Christ where he has been a member of the Eldership Council for the past five years. A Certified Practicing Accountant, he was once a Minister of Religion where he ministered both in Australia and in missionary roles overseas. He is deeply committed to improving quality of care for the elderly.
---
KEVIN O'SULLIVAN (Deputy Vice President)
Kevin has worked in the aged care industry for over 17 years primarily as a proprietor of three aged care facilities. Kevin is the proprietor of a 45 bed facility in Boronia. His Board responsibilities include being a member, Finance and Audit Committee and member, Executive Committee
---

PETRA NEELEMAN, (Chair, Finance and Audit Committee)
Petra Neeleman is CEO of DutchCare Ltd and a founding board member and chairperson of Eden-in-Oz. She believes that we must offer the very best care to elders even if that means challenging current systems. She is a member of ACCV's Finance and Audit Committee, Issues and Challenges, Conference and Cultural Diversity Taskforces. Petra has a Bachelor of Business and is the 2006 winner of the Jonas Kreveld Award for services to business and the community.
---

RHYS BOYLE

Rhys Boyle has 23 years experience in health administration, with tertiary qualifications in both business and health services management. He is an active member of Commonwealth and State Government advisory groups. For the last 13 years Rhys has held the position of Chief Executive Officer of Lyndoch in Warrnambool. This facility employs approximately 350 staff and provides a broad range of residential, community, retirement living, in home and case management services across South West Victoria. 
---

SANDRA HILLS
Sandra is General Manager, Aged & Community Care, Brotherhood of St Laurence (2000 to present) with over 20 years experience in a range of Senior Management roles in the Health & Community Services industry, State & Local Government and the Community Sector. Sandra is a Director of Anglicare Australia, member of the Ministerial Aged Care Advisory Committee (2004-present) and member of various other State Government Advisory & Reference Committees.
Qualifications: MBA, Graduate Diploma Human Services Administration, Graduate Diploma Human Services, Research & Evaluation, B.A. (Psychology), M.A.I.M., M.A.I.C.D., M.A.I.P.A.
---

RICHARD JENKINGS
Richard has worked in residential and supported residential aged care for over 24 years. He is a Director at Gold Age aged care facilities where he is involved in the daily management of operations and the proprietor of Greenway Gardens Aged Care Facility. Richard is a qualified applied chemist with a Bachelor of Education and Graduate Diploma in Special Education. Richard brings a diverse range of skills to the ACCV Board having worked across chemistry, quality and particularly in education during his career.
---
JEFF DAVEY

Jeff Davey has been involved in the aged and community care sector for over fifteen years, and is currently the Chief Executive of Baptcare.
Prior to commencing with Baptcare in 1992, Jeff held various professional and managerial roles in the accounting profession, the banking sector and in community organisations. Jeff holds tertiary qualifications in commerce (B Comm (Melb)), theology (B Theol (MCD)) and management (MBA (Exec) (Mon)) and is a Chartered Accountant.
Jeff sees ACCV's key challenge as being to "tell it as it is" to government, whilst further developing its role in promoting constructive change to Australia's aged care system.
---

MEIGAN LEFEBURE
Meigan Lefebure is the State Manager of the Regis Group, a significant provider of residential aged care in Victoria and Queensland.  She is an experienced aged care professional, with a demonstrable record of success in leading and representing the sector at a senior operational and policy development level.  Meigan has extensive experience in operational strategies, business services and with staff and boards.  She is the former Chief Executive Officer of the Aged Care Association of Victoria, and has also occupied positions as a Director of Nursing and Clinical Services Manager.  Meigan brings to the board strong analytical and financial management skills, which have underpinned her success in the commercial aspects of business management.  She is a member of the Nurse Advisor and Administrator Panel, with DoHA, served on the Aged Care Planning and Advisory Committee, helped judge the Australian Nursing Awards and is part of the ACFI National Industry Reference Group.
---
JOE CARUSO
Joseph worked in a private accounting practice, local government, with Rural Ambulance Victoria and in health services, before moving into aged care. He is currently the Chief Executive Officer of St Johns Village in Wangaratta. Joseph sees the importance of a strong association such as ACCV, to convey the voice of providers to the government and community of the sectors dedication to the elderly. Too often aged care makes the press for all the wrong reasons but the media very rarely contacts us to find out the good things we do. Joe chaired the  Hume Regional ACCV forum for three years and continues to be an active member of that group, so understands the issues facing rural facilities face. Joe is also concerned the industry needs to be put on a more sustainable financial footing. He has a Bachelor of Business Degree and is a Fellow of the Australian Society of Accountants
INGRID WILLIAMS
Ingrid Williams is the Chief Executive of TLC Aged Care, having started work there in May 2004. Prior to joining the company, Ingrid spent 18 years working in the acute hospital sector, both private and public, in senior management roles. She is passionate about the industry she works in and believes she has a good understanding of State legislation and its impact on the industry from a service delivery point of view. Ingrid also has a detailed understanding of Federal Legislation and the impact of changes within that legislation, such as funding, on service providers. TLC Aged Care is a significant Victorian provider, operating more than 1000 beds, across nine sites. Ingrid has experience of IT within the industry and was the manager of the first home to do on-line claiming with the AGHDA. Working for a company which is in a growth phase, Ingrid has also experienced the commissioning of new facilities and the associated application processes required. Ingrid has a Masters in Health Administration, a Bachelor of Educational Studies and a Diploma of Business (Frontline Management)